How To Create Digital Marketer's 4 MUST HAVE Custom Audiences
by Kim Snider - Get free updates of new posts
here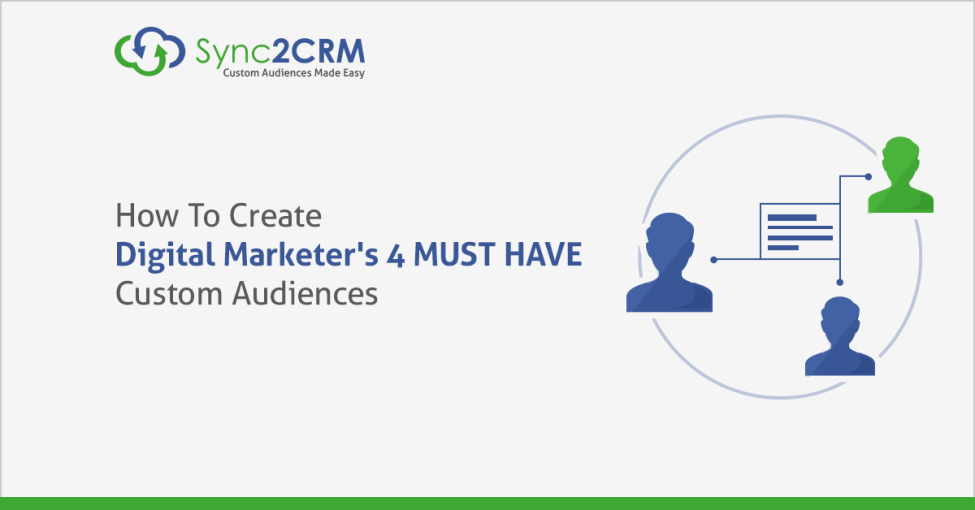 Facebook Custom Audiences are the foundation of Facebook ad success.
Why?
The reason is simple: These audiences have already shown interest in your brand and offers by visiting your website or by joining your list. They are warm traffic. They are the low hanging fruit.
In the words of Digitalmarketer.com's Molly Pittman:
"Creating Custom Audiences is really the low-hanging fruit. It is one of the first things I did when I started running Facebook ads."
– Molly Pittman, Vice-President of Traffic, Digitalmarketer.com
In this post, you will learn about the 4 Facebook Custom Audiences that you should be creating immediately when you do Facebook ads. This will enable you to the set the right foundation for success and scalable growth with your Facebook ads.
"What we have found to be one of the most important elements of successful, long-term, scalable Facebook ad campaigns is really tapping into Facebook's Custom Audience targeting."
– Keith Kranc, Founder, Dominate Web Midia
Digitalmarketer.com recently had a great podcast (Perpetual Traffic Podcast #22) recently describing the 4 Facebook Custom Audiences that every business should set up right now for great Facebook ad results.
From time to time we will reference the podcast and go into some more details. Not to worry though, we do not assume you have listened to the podcast, so no prior knowledge is required. We will clarify everything together.
Most important, you will learn the best way on how to actually set up and automate these Custom Audiences, using Sync2CRM and Infusionsoft.
Before we do that, let's look at which Custom Audiences are most important as the foundational layer for your scalable Facebook ad success.
I highly recommend that you watch the accompanying videos, they have the added benefit of showing you the actual steps you need to take on-screen.
4 MUST HAVE Custom Audiences for Facebook ad Success
The 4 crucial Facebook Custom Audiences are:
All Contacts

– these are all leads and customers…basically every contact in your CRM

All Customers

– Everybody in your CRM that has already purchased from you. This can be one of the best sources of extra revenue. They have already purchased from you and are therefore much more likely to buy again.

All Website Visitors

– Anyone who has visited your website in the last 180 days

Conversion Page

– Everyone that has converted on an offer and saw the thank-you  page. As an example, we will will use a webinar registration. A conversion would be everybody who has registered for the webinar, and then seen the thank-you page after sign up.
Let's look into each one of them and how we can set them up. Don't worry for now if you still have some questions. We will go into more details and further clarify under each individual step.
How to setup the "all contacts" Custom Audience
If you use Sync2CRM and Infusionsoft, we give you an "all contact" option. So this will be very easy for you to set up. You can simply:
Click on "CREATE NEW". From the "Ad Platform" dropdown, select Facebook Custom Audiences and click continue.

Now select the CRM account, and the Facebook Account you want to sync it to

Give the audience a name (e.g. "all contacts"), add an optional description and choose your ad account

Now Sync2CRM will automatically pull all the tags and searches that you can use to create a Custom Audience. Go to the very bottom and choose "all contacts"

Choose your sync interval, we recommend you set this to every 3 hours and click create. Done!
Now in your Facebook ad account or Business Manager, you will be able to see the "all contacts" Custom Audience that has been created. This is also being synced automatically every 3 hours with your Infusionsoft through Sync2CRM.
You can always reference the accompanying video to see an actual walkthrough within our software.
How to setup the "all customers" Custom Audience
Let's look at "all customers", the second Custom Audience that is recommended in Digitalmarketer.com's podcast.    
In this case, we are going to use a tag in order to create this Custom Audience.
Now you will have to set up an "all customers" tag in your Infusionsoft for all the contacts that have purchased from you. This is very easy to do. Once you have that, you can go on and use Sync2CRM to create a Custom Audience from that newly created tag. 
Steps 1 to 3 and 5 will be exactly the same for the "all customer" Custom Audience. Scroll back up to How to setup the "all contacts" Custom Audience if you need a refresher.
Under step 4, it gets a little different. Here you simply select the "all customers" tag. (Remember, you will need to create this tag in your Infusionsoft first!)
This will create an all customer Custom Audience in your Facebook, which you can now use to retarget with upsells and offers.
How to setup the "all website visitors" Custom Audience
If you are familiar with Facebook Custom Audiences, I am sure you will know this one.
As the name suggests, this Custom Audience will be created from website visitors, not your CRM data. So in this case, you can set it up right in Facebook.
To create this Custom Audience, you will just need to create the Facebook Pixel code and place it on your website.
This goes into the <head> section, the same place where you would put a Google Custom Audiences snippet. You will find a ton of resources on the web that will show you how to create and place that pixel.
Once you have placed the pixel on your website, here is what you need to do to create the "all website visitors" Custom Audience:
In your Facebook Business Manager, click "Create Audience" and select "Custom Audience"

Choose "Website Traffic" from the list of options

Select "Everyone who has visited your website" and select the domain for which you want to create the Custom Audience. Make sure the domain is without

www

or

http://

For the timeframe, it's recommended that you select the maximum, which is 180 days

The naming structure recommended in the Perpetual Traffic Podcast is "YourDomain.com – Sitewide – 180"

Finally click "Create Audience"
After you have created the Custom Audience, it will take a while to populate. So don't worry if it initially says audience too small.
There is a great chrome plugin the "Facebook Pixel Helper". You can install into your Chrome to make sure that your Facebook ad pixel is installed on your site correctly. To find out more about what a Facebook Pixel is and how it can help your marketing efforts, click here!
How to setup a Custom Audience for everyone that has converted on an offer and seen your conversion page

As an example (like in the podcast), we will use a webinar registration campaign.
There are two main ways to accomplish this:
The first option is to use the aforementioned website visitors Custom Audience to pixel the traffic. However, instead of using the full domain, you will only be using the URL of the thank-you page. The thank-you page in this case is the page someone sees right after they signup.
That is legitimate, but limited way to do it. What's limited about this approach is that it will only track for 180 days. And especially for your evergreen campaigns that is not going to be enough.
So one of the advantages of using Sync2CRM is to use a tag in Infusionsoft instead. That way you can mark all your contacts that have visited your thank-you page.
The way to do it is real simple. For the webinar example, you simply create an action tag in Infusionsoft which get's applied as soon as someone registers for a webinar. It's a great idea to also use an "event attended" and an "event not attended" tag. That way you can be even more specific in your campaign targeting.
The way to create this in Sync2CRM will be exactly like we have set up the "all contacts" campaign before.
The only difference is that this time, under step 4 when you are choosing your list, you want to choose the tag that you have created in your Infusionsoft. In our example here that would be the "event attended" action tag. That's it, all is setup. A Custom Audience is automatically created in your Facebook ad account.  
The added benefit of this approach is that you can also include people manually. For example if somebody calls in or emails and says they want to attend the webinar, we can manually add the tag to them. Overall this makes the approach using Sync2CRM more robust and gives you more control than you would have using the Facebook Pixel.
As you then hold the webinar, the automation is in place and people will get marked as attended and not attended. That gives you the possibility to target them with appropriate ads based on which category they fell in. That way you can automate and scale your campaigns without having to touch them over and over again.
Set up your 4 most important Custom Audiences? Now use them!
"I still see a lot of people who are creating these audiences but they are still not using them. Obviously, these audiences are warm and something you should be taking advantage of. I can't think of anything more important, on Facebook, than Custom Audiences, because it allows you to reach people who have already engaged with your brand."
– Molly Pittman, DigitalMarketer.com
There is one important last point that I want to make here: Once you setup these Custom Audiences, use them for your ad campaigns!
That way you are making sure that you are going after the low hanging fruits, the people that have already demonstrated interest in your offer and are most likely to buy.