Sync2CRM 2.0 Is Here
by Kim Snider - Get free updates of new posts
here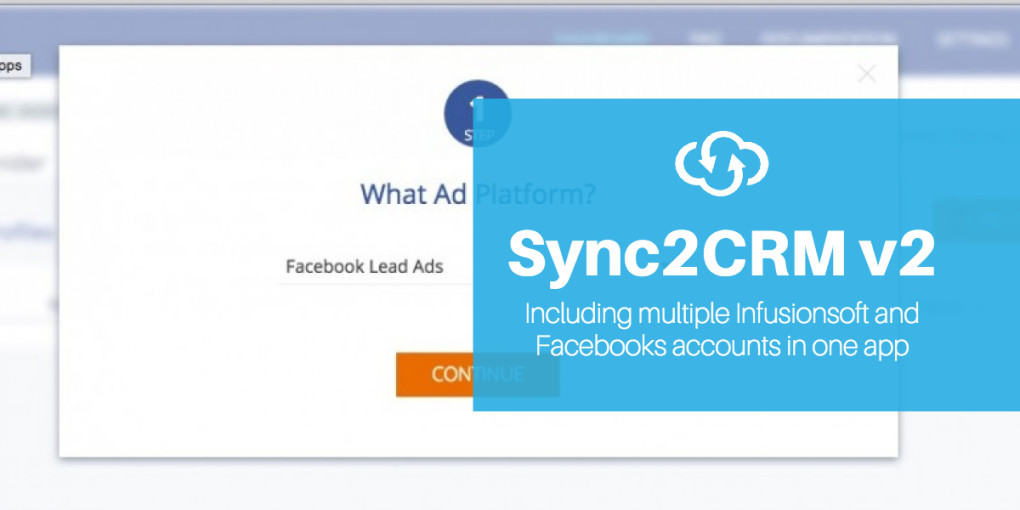 I am pleased to announce the release of Sync2CRM 2.0. This is a major release with tons of new features:
– Sexy new User Interface … re-designed from the ground up.
– The ability to connect multiple accounts to a single Sync2CRM account
Those are the two big and obvious things. But, beyond that, we added …
– Major architecture changes making syncs 3X faster to avoid conflicts and bottlenecks on larger lists
– The ability to see the details of and edit an existing sync profile
– A full featured settings area for managing your account
– Easier connection/reconnection of Facebook and Infusionsoft accounts
– Infusionsoft API Key fallback for improved reliability
– Better logging so you can tell what is happening with each sync
– Better error handling
You can see Sync2CRM Version 2.0 in action in the following demo video …
This is a foundational release … meaning these are things we had to get done so that we can add features and users. Our intention was to build a platform that is stable and allows us to add new features quickly and easily.
We host live, webinar-style demos so you can see Sync2CRM in action, ask questions, and walk away knowing everything there is to know about Sync2CRM. You can register for our next demo here.
If you have any thoughts, questions or comments on this release or future functionality, please feel free to either leave them in the comments below, on our Facebook Page or in the blue chat button on the bottom right hand side of every page.
I read and respond to every comment and would love to hear from you.