Ep4: Facebook Ad Targeting Friends of Fans
by Kim Snider - Get free updates of new posts
here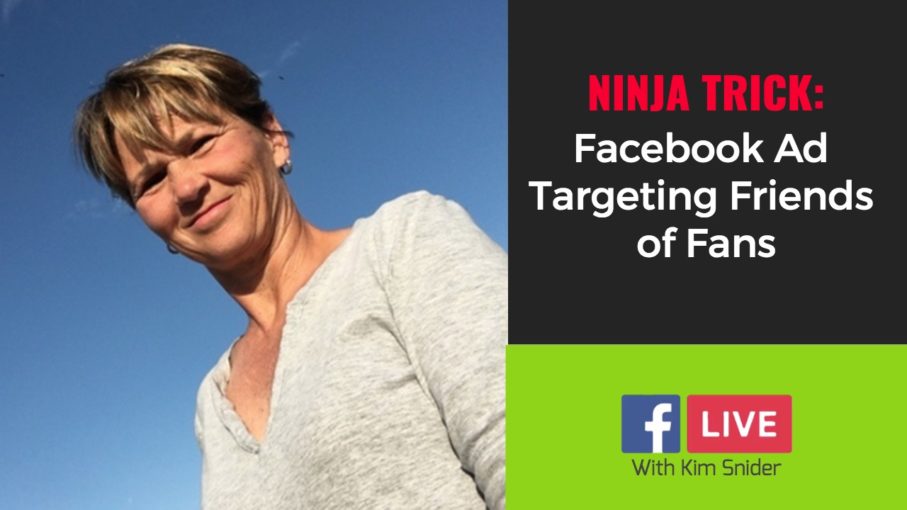 Why Facebook Ad Targeting Friends of Fans Is Soooo Powerful
Did you know that the average Facebook user has 150 friends? And we know that birds of a feather tend to flock together.
In this episode of Facebook Live with Kim Snider, I share with you one of the most powerful secrets in Facebook ad targeting – friends of fans. I'll tell you when, where and how … so watch the video. Then get the cheatsheet.
Time Stamped Index Of Video
0:27 – Today's Topic – Facebook Ad Targeting Friends of Fans
1:40 – Download the cheatsheet below to get step-by-step how-to with screenshots
3:29 – If you don't get ad targeting right, nothing else matters
5:00 – The average Facebook user has 150 friends
5:25 – Even if you only have 500 fans, that's 75,000 people (OK .. I'm terrible at math in my head!!!)
5:37 – Most people have friends who share their location, interests and demographics
6:44 – If you can overlay interest, that is even better
7:50 – Ads will have social proof because top of ad says which of their friends like the page
8:43 – Anyone who says getting Business page "Likes" is useless is wrong
9:23 – You want natural likes, not paid likes
10:15 – Don't forget … when you Include an audience, you need to also Exclude
11:20 – Download the cheatsheet below to get step-by-step how-to with screenshots
12:00 – Don't waste money trying to find the notes later
14:24 – Tune in every week at noon ET on the Sync2CRM Facebook Page
14:30 – Join the conversation in the Facebook Ad Questions Facebook Group
14:59 – Psych! Not done … who it does and doesn't work for
15:25 – OK … now done! 🙂
Get The Cheatsheet and How-To For This Episode
In this week's cheatsheet, you get all the notes from the video. But more importantly, you get a complete, step-by-step walkthrough, complete with screenshots, of how to set up your Friends of Fans targeting.
To download the cheatsheet, click the image below.