Ep5: How I Used Facebook Live To Increase Revenue 35% In One Month
by Kim Snider - Get free updates of new posts
here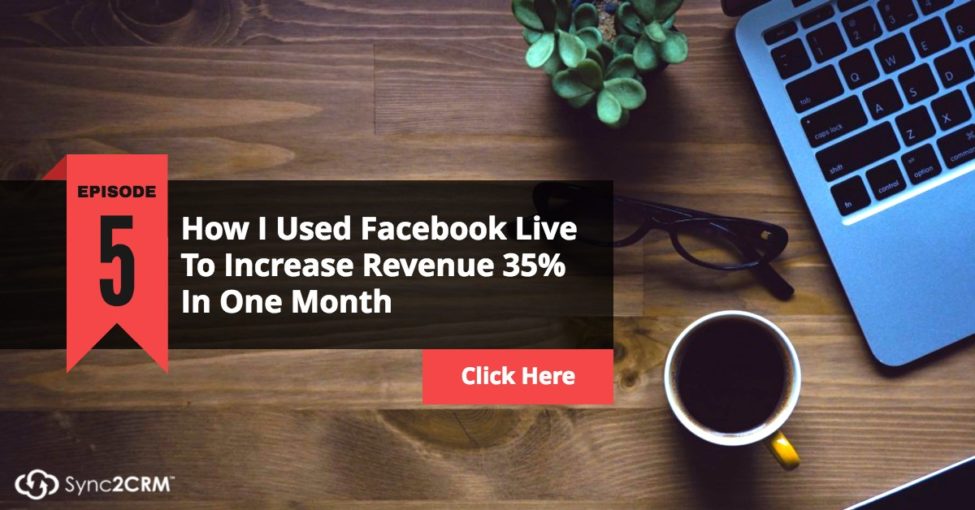 How I Used Facebook Live To Increase Revenue 35% In One Month
Have you watched a Facebook Live broadcast yet? Done one yourself?
Facebook has gone all in on streaming video, which means … you should too. Facebook is the future. So when they jump in, you should too.
In this episode of Facebook Live with Kim Snider, I share with you three new features already announced to make Facebook Live even MORE powerful! And I'll share with you how I have used it to double my email list and increase sales by 35% in just one month. … so watch the video. Then get the cheatsheet for the notes and Bonus material only available in the cheatsheet.
Time Stamped Index Of Video
0:05 – Introduction
0:58 – Topic Introduction: Facebook Live New Features
2:15 – Access to the cheatsheet: www.sync2crm.com/ep5
4:45 – Facebook is going all in on Facebook Live
6:06 – Feature #1: Broadcast live with a friend
6:42 – Feature #2: Schedule your broadcast in advance
8:12 – Feature #3: Stickers and Animations for broadcasting
9:41 – The reasons why you should be using Facebook Live for business
#1: Facebook Live allows for a personal interaction

#2: Facebook is giving preference to Live videos in the news feed

#3: Ability to repurpose content
13:42 – How Kim repurposes her Facebook Live videos
15:11 – Kim will edit the video to share on YouTube and www.sync2crm.com
16:01 – Kim can repurpose up to 7 times from Facebook Live
16:35 – Plans to convert the broadcast to a podcast
17:49 – Facebook Live boosts posts
18:20 – Kim shares her success from using Facebook Live
20:40 – Access to the blog post: www.sync2crm.com/ep5
21:17 – Tune in to more broadcasts at Tuesday, 12pm through Sync2CRM
Get The Cheatsheet and How-To For This Episode
In this week's cheatsheet, you get all the notes from the video. But as an EXTRA BONUS, I give you five unique ways to use Facebook Live, beyond just sharing content or the standard Ask Me Anything format.
To download the cheatsheet, click the image below.