Ep7: 3 Stupid Facebook Ad Metrics That Need To Die
by Kim Snider - Get free updates of new posts
here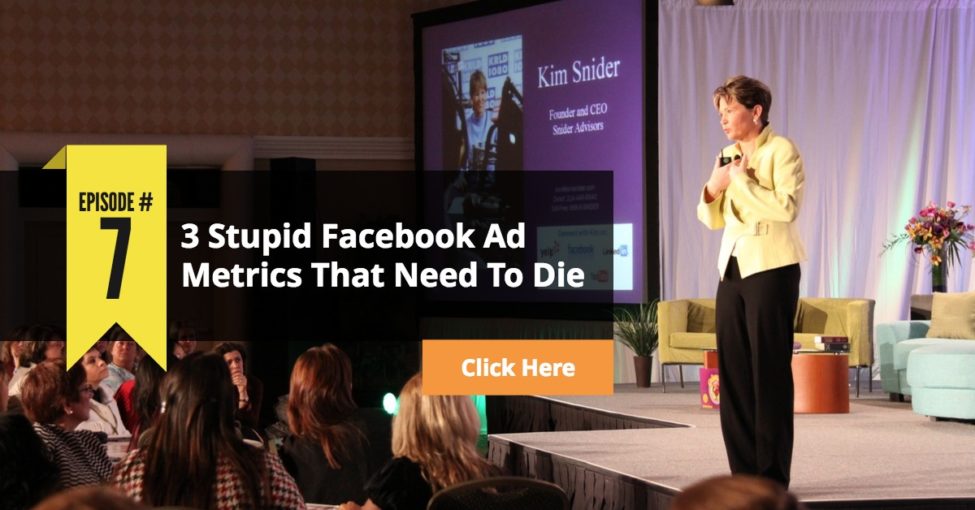 Why Most Facebook Ad Metrics Are Useless …
Today's topic, 3 Stupid Facebook Ad Metrics That Need To Die, is inspired by a recent post from Larry Kim, over on the Wordstream blog, called 6 Stupid Marketing Metrics That Need to Die.
So, in that vain, I am going to tell you which Facebook ad metrics are not just useless, but in the wrong hands can be downright dangerous, causing you to make poor decisions and lose money on your Facebook ads.
And, of course, I don't just leave it at that. I will also tell you what you should be looking at instead … and why.
Time Stamped Index Of Video
0:05: Introduction
0:17: Topic introduction: 3 Stupid Facebook Ad Metrics That Need To Die
2:03: Link to Cheatsheet
2:53: Start of main topic, why are they bad ad metrics?
4:01: 3 Metrics: Page Likes, Click Through Rates, Cost Per X
4:41: Start of 'Page Likes' Section
6:37: Start of 'Click Through Rate' section
7:43: Start of 'Cost Per X' section
11:18: The two metrics that should be your main focus
15:54: The only number that matters, the return on investment.
17:23: Don't be blindsided thinking that all Facebook numbers mean something
18:26: How to measure return on investment? Check out: www.wickedreports.com
21:48: Episode summary
22:24: Feel free to leave comments, Kim will make an effort to reply!
23:12: Final send off for the episode
Get The Cheatsheet
In this week's Episode #7 Cheatsheet, I have rounded up all the notes from the broadcast plus any screenshots, links and resources that may or may not have been mentioned in the show so you have them all in one place.
To download the cheatsheet, click the image below.