Ep6: Why You Shouldn't Outsource Facebook Marketing Services
by Kim Snider - Get free updates of new posts
here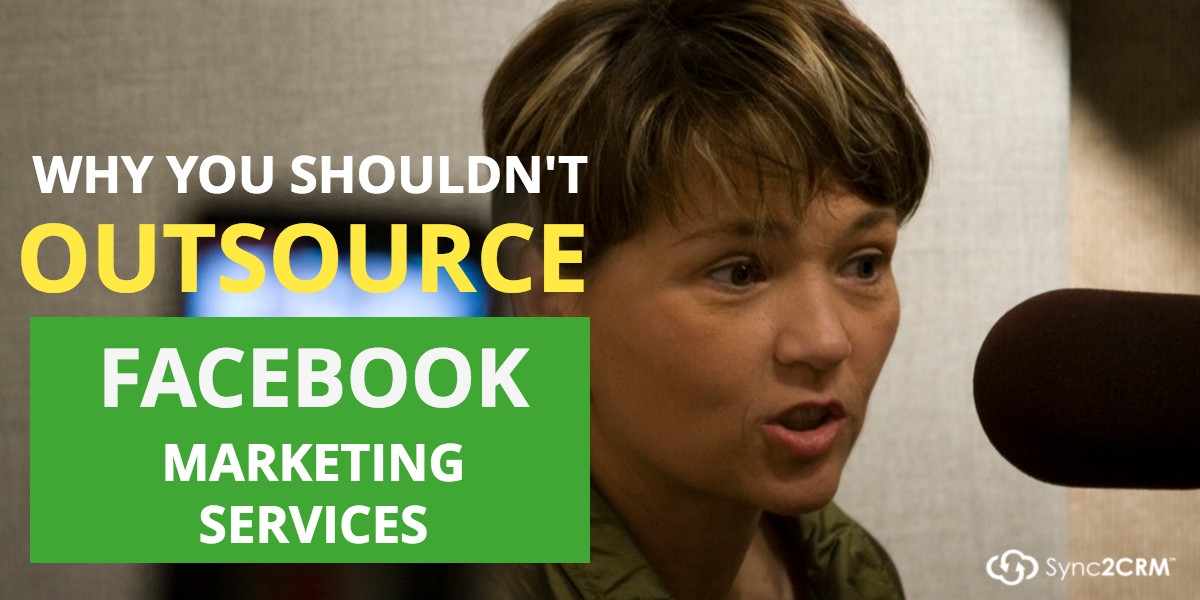 Why You Shouldn't Outsource Facebook Marketing Services
Have you tried to outsource your Facebook Marketing Services? Thought about it?
In this episode of Facebook Live with Kim Snider, I will tell you why I believe you CANNOT and SHOULD NOT outsource your Facebook Marketing Services. I know this is likely to be somewhat controversial. But listen to the entire episode before you tune me out. Then decide if you agree.
Time Stamped Index Of Video
0:05 – Start and topic introduction
1:58 – Episode Cheatsheet information – www.sync2crm.com/ep6
3:18 – Why you shouldn't outsource Facebook Marketing, body start.
6:20 – Facebook is trial and error, a reason to not outsource
9:22 – The numbers and costs involved in outsourcing
11:08 – The issues with Facebook Marketing Services, statistics.
13:02 – What if I don't have the time or confidence to market on my own?
15:52 – Kim shares how she does her Facebook marketing
18:50 – You don't have a business if you can't bring in clients at a profit
22:28 – When should you hand off your role as a Facebook marketer
24:12 – Real world examples of handing off your main role
25:40 – Questions and Answers
27:00 – Software recommendations
33:40 – Summary
34:00 – EndingGet The Cheatsheet and How-To For This Episode
In this week's cheatsheet, you get all the notes from the video about why I don't think you should outsource your Facebook Marketing Services. And, as an EXTRA BONUS, not included in the broadcast, I am going to share with you five facts about Facebook that will be blow your mind and what I think they mean for small business.
To download the cheatsheet, click the image below.