Ep 8. – Are Facebook Ads A Waste Of Money?
by Kim Snider - Get free updates of new posts
here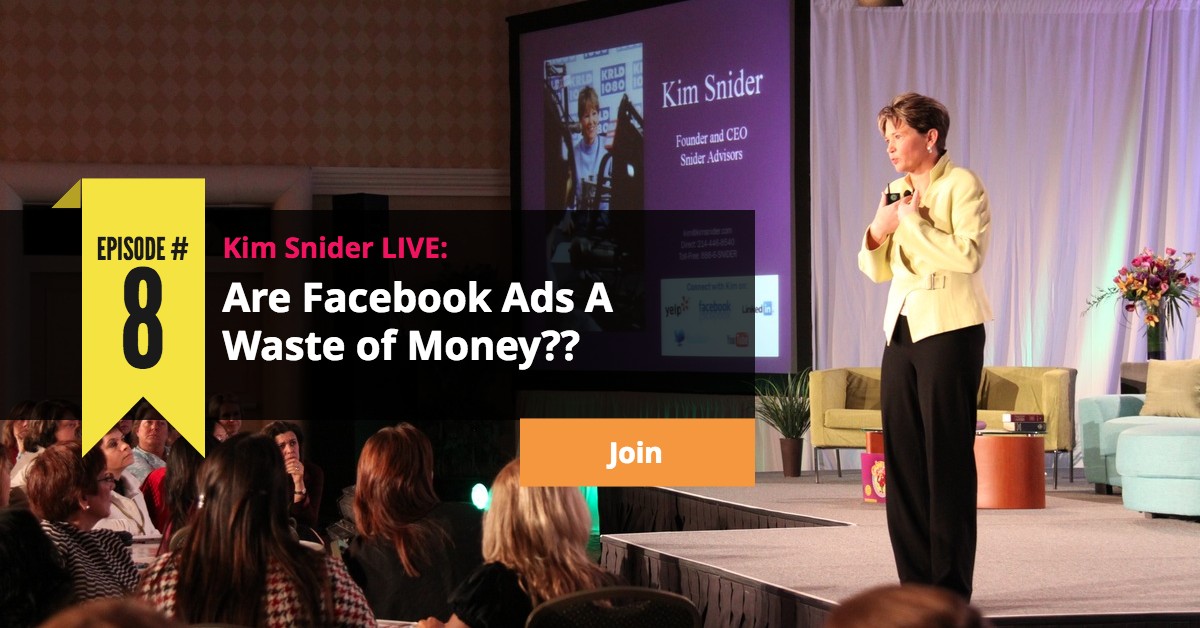 Is Facebook ROI Real?
Today's topic is inspired by a comment on an obscure blog post I just happened across. The comment, in support of the view that Facebook ads are a scam, was, "[..] as FB member yourself, have you ever called or bought anything through one of the ads?"
Well that set me back a bit. Because for me, my immediate answer is no. And this is a common refrain heard from those who have been unsuccessful with their Facebook ad campaigns.
So, in this episode of Kim Snider Live, we will explore the question … Are Facebook Ads A Waste Of Money? Do a few people just get lucky? Or lie?
Turns out … it is a VERY instructive exercise …
Time Stamped Index Of Video
0:23 – Topic Introduction: A Question from a Facebook Post: Are Facebook Ads a Scam?
2:43 – Go to www.sync2crm.com/ep8 to get the cheatsheet for this episode!
4:12 – Main content start, has Kim actually bought anything from a Facebook Ad?
9:10 – Kim's points on why Facebook Ads aren't a scam.
11:00 – Do Facebook Advertisers get a positive ROI?
12:00 – How does the research on digital marketing show the outcomes of Facebook Ads?
16:31 – Marketing builds a relationship through Facebook, not direct sales.
18:20 – Facebook ad records are not tracked efficiently by many
21:44 – You have to market for the long haul, sales aren't usually immediate
25:25 – The key takeaways from this Facebook Live video
26:50 – Live questions!
31:45 – Conclusion and thank you!
Get The Cheatsheet
In this week's Episode #8 Cheatsheet, I have rounded up all the notes from the broadcast plus any screenshots, links and resources that may or may not have been mentioned in the show so you have them all in one place.
To download the cheatsheet, click the image below.