Ep 12. – [EPIPHANY!] How To Get Facebook Ad Results … FAST!
by Kim Snider - Get free updates of new posts
here
2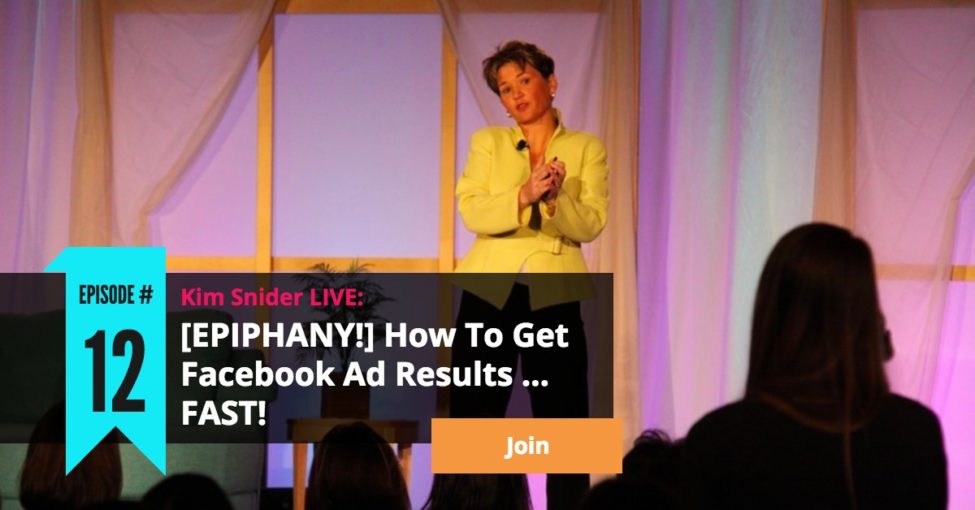 I know the challenges small business owners have with Facebook advertising … because you have told me in the hundreds of free Facebook Ad Assessments I have offered.
They boil down to three things: 1) Time; 2) Return on Investment (ROI); and 3) Figuring out the Facebook ad platform itself. Right?
Well, what if I had an epiphany that just solved these problems for you?
What if I figured out how you can get great ROI, with very little risk, in very little time, and without having to figure out all of Facebook advertising all at once?
You'd want to know what it was, right?
If so, join me for this Episode of Kim Snider Live, where I will explain my big Aha! I'll explain why the top-down funnel everyone is teaching is your problem, not the answer. I'll explain why the reverse funnel makes so much more sense. And, I'll show you where there is money just hanging around waiting to be picked off like ripe fruit hanging from trees.
0:10 – Intro to episode 12
1:45 – Topic Introduction: How to get Facebook Ad Results and solve the issues of Facebook!
2:48 – Kim shares her epiphany on Facebook Marketing!
6:28 – The Top Down Funnel is only as effective as the degree to which you have it built out, tested and optimized.
9:54 – There are instant results with very little time and money by turning the funnel upside down.
10:40 – What is the reverse funnel?
11:23 – Gain access to the cheatsheet at www.sync2crm.com/ep12
12:05 – Kim shares what her funnel looks like.
22:10 – The systematic way of tackling and implementing a task each week.  
25:33 – Bonus screenshots of Kim's Active Campaign and Facebook campaigns in the cheat sheet!
26:30 – Cheatsheet is at www.sync2crm.com/ep12
26:50 – Main topic summary
28:54 – Kim answers the questions from the live broadcast!
30:10 – What is evergreen?
31:42 – Kim's thoughts on a CTA button on an initial ad.
35:25 – Facebook Groups vs Facebook Fanpages
37:12 – The best way to use a deep dive survey.
46:24 – How does Facebook Live boost relevance score?
Looking For This Week's Cheatsheet?
In this week's Episode #12 Cheatsheet, I have rounded up all the notes, links and resources from the broadcast PLUS screenshots of the sample targeting in both Active Campaign and Facebook for the simultaneous ad and email campaigns, so you can see exactly how you would do that.
To download the cheatsheet, click the button below.