The Entrepreneur Scorecard
by Kim Snider - Get free updates of new posts
here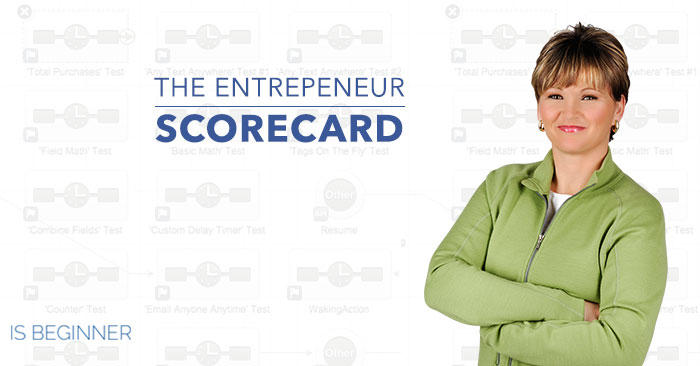 I was honored to be asked to do another Biz Booster webinar for Infusionsoft. This is my fifth one.
The first three were a series called How To Speak CEO. You can find those videos here, here and here.
My title assumes you want to grow something: revenue, profit or time. If you have no interest in any of those growing then this is probably not going to be all that interesting.
On the other hand, even if you are not trying to grow an empire, who doesn't want more of at least one of those, right?
Context for what I am sharing today … I sold The API Guys about 6 weeks ago. Starting from scratch with IS Beginner.
Goal … start with the end in mind …
mature – makes money for me even when I'm not there
data-driven – run off numbers
$1M – how big do I want to be?
training company – what do we do
do what I want when I want – ideal lifestyle and being able to spend time on what's most important
be end of 2016 – deadline
How do we achieve that goal … by helping 5000 people use Infusionsoft to grow their own businesses between now and then …
As entrepreneurs (especially solopreneurs), trying to grow or transform a business, most of our challenges are resource problems … time or money … inefficient use or lack thereof. At other stages we have different issues.
I would argue that time is the bigger problem than money. You can always make more money but you can't make more time. For our purposes, money is not finite. Time is.
The Entrepreneur Scorecard
Not my idea. The way I implemented it is my own. But the Entrepreneur Scorecard itself comes from Todd Herman and his 90 Day Year coaching program, which I am a member of
Sharing this is where I am right now and this is what is working for me
I have been using for the last 5 weeks to tie what I am doing this minute to that $1M number very directly
Consistent with being a data-driven company
Two assumptions:
What you do today will determine where you are 90 days from now

Problem is that disconnects my actions today from the outcome. Very nebulous.

What gets measured gets managed

Studies show just tracking what you eat causes you to lose weight
Step-by-step:
Break how much money you need/want to produce/earn into a daily number
Figure how many days you will work
Divide the goal by days to be worked
Track the time you spend each day and put it into buckets
At the end of each day, put the result somewhere you can see it
Creates financial accountability for how I spend my time:
Tells me very clearly what I can/need to either 1) offload, 2) stop doing or 3) carefully manage
Quantification creates an element of gamification

I can check to see how I am doing against my target each day
What was my best day? Can I beat that in the same number of hours?

Creates a realistic forecast of what my numbers are going to look like

Entrepreneurs pipeline report takes the place of a detailed business plan
I can invent my way to $1M as long as I am correctly assessing the value of my time each day
What I put in the top should come out the back at some reasonable point in the future

Gives me a roadmap for creating more leverage and value

How do I move from $1000/hr to $10K/hr activities?
Summary:
Key to making it work is that it happens automatically.
Started because the logic appealed to me. Hard to see the result at first.
Now it is really starting to pay off. I have gotten more done in the last five weeks than I was in the last five months.
Most importantly, the things I am doing are the right things that are starting to show up in my results.
Hope it helps!