#2 – New Facebook Pixel FAQs
by Kim Snider - Get free updates of new posts
here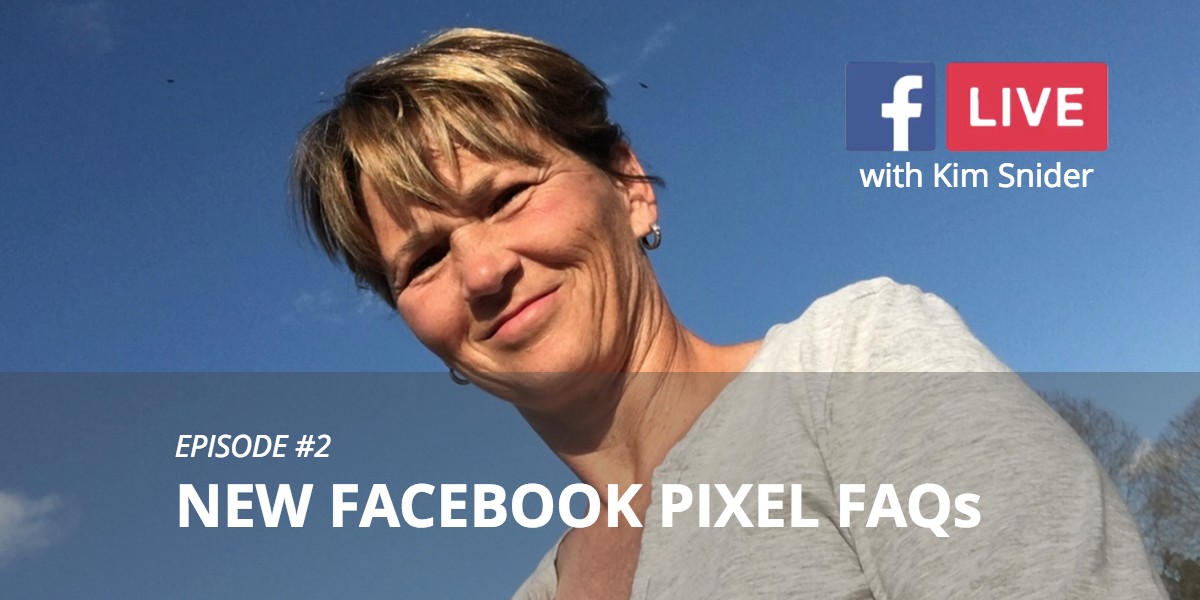 Why I'm Covering The New Facebook Pixel Today
Based on the number of questions I get, it seems that one of the most baffling parts of Facebook ads for those just getting started is the new Facebook pixel. So in this episode of my weekly Facebook Live broadcast, I go over the most frequently asked new Facebook pixel questions.
Time Stamped Index Of Video
0:05 – Why I thought New Facebook Pixel was important topic
1:21 – Quick introduction for those who don't know Kim
2:09 – Where New Facebook Pixel fits in our 9 Step Growth Method
3:16 – Question #1 – What is the new Facebook pixel and what does it do?
6:07 – Question #2 – How do I install it?
9:25 – Question #3 – Should I/Can I use the same pixel on different sites?
12:21 – Pro Tip – You can put more than one pixel on a site
13:05 – Question #4 – I have the old pixel on my site. Can I have both?
14:04 – Question #5 – How do I set up "conversion pixels"
20:49 – Question #6 – What if I have more than 40 conversion events?
22:15 – Get the cheatsheet below for notes, action items and bonus material
23:09 – Join this broadcast live every Tuesday at Noon ET on Sync2CRM Facebook Page
23:32 – Last minute question about the workshop
Get The Cheatsheet and Action Items For This Episode
I put together a crib sheet for today's topic, which give you 3 actionable steps you can do today. Literally. Plus the short and sweet version of my answers and a surprise BONUS!
To download the cheatsheet, click the image below.